You've picked the perfect band or an amazing D.J. for your wedding. Now there are visions of wedding guests dancing the night away dancing through your head. But wait, how much dance floor will you need? The experts at Pine Valley Rental & Sales Inc. can help! Our experienced staff can guide you through the process of choosing just the right floor, offering tips on sizing, as well as layout. We can also get you set up with tents, chairs, lighting, heating and more. At Pine Valley Rental & Sales Inc. you can rest assured that you'll find the best dance floors and accessories to make all your Bayfield, Pagosa Springs and surrounding Colorado area wedding truly unique. Here's how to determine how much dance floor you will need for your big day!
Things to Consider
As a good rule of thumb, you can assume that between 30% to 40% of your party will be dancing at any given time, and

the

industry standard

suggestion is to allot about 9 square feet per dancer.

With that in mind, decide how much space are working with for your dance floor.

What kind of surface will the flooring be

placed on? Grass, concrete, asphalt, wood deck?

Will you be using the flooring for your entire event, filling the dining area too? Or will you just be using it for dancing? Either way, make sure you get precise measurements. You will need them!



Who Will Be Dancing?
If your wedding guests list is made up of mostly elderly or low key people you can expect a slightly lower number of dancers. If your list is made up of a younger crowd, then you can expect just the opposite. We have found for most weddings you can go with the 40% rule and it works great! Using the 40% Rule, below is a chart to help you decide.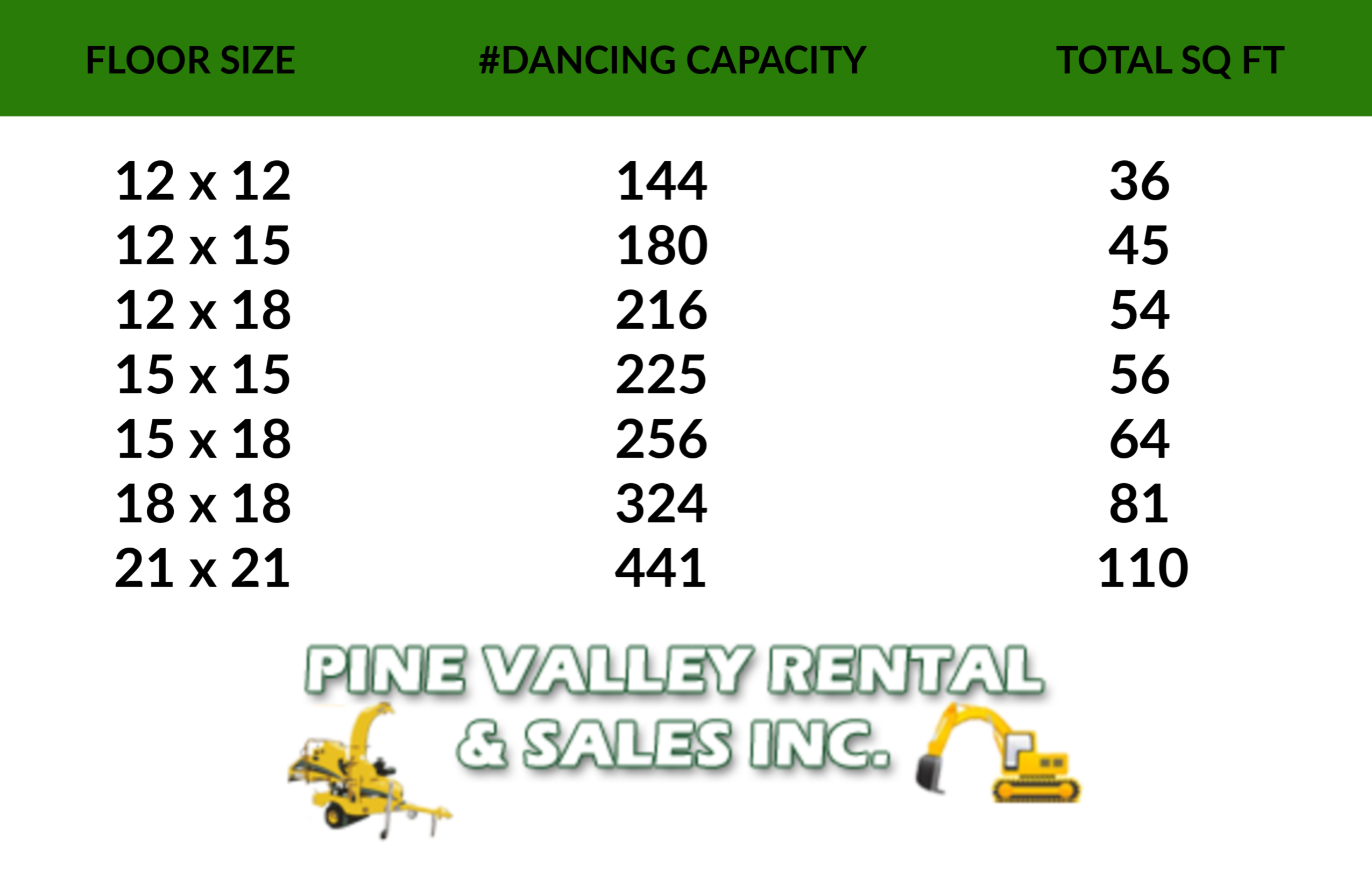 Choosing the right size dance floor is critical to the comfort and enjoyment of your guests! No one likes to feel as though they are dancing on top of others. You don't have to figure out your dance floor sizing on your own, at Pine Valley Rental and Sales Inc. we'll be happy help you decide what size is right for your party. We currently offer two flooring options for you, a wood grain finish and a black and white finish. To help your planning we also offer arches, staging, sound systems, lighting, food service items, tents, a bar and more! Contact us today to speak with our event specialists about planning your dream Colorado event. We'll work with you to make sure all the details are just right. We have all your event rentals covered. "The party must go on!"